Awards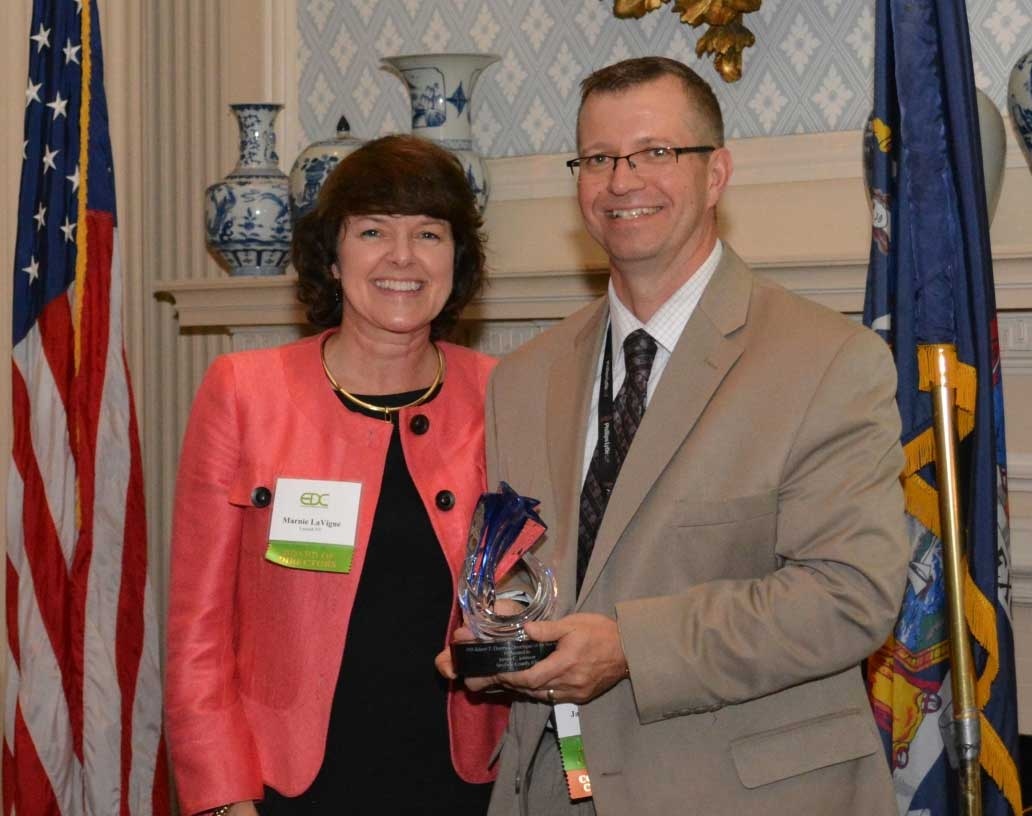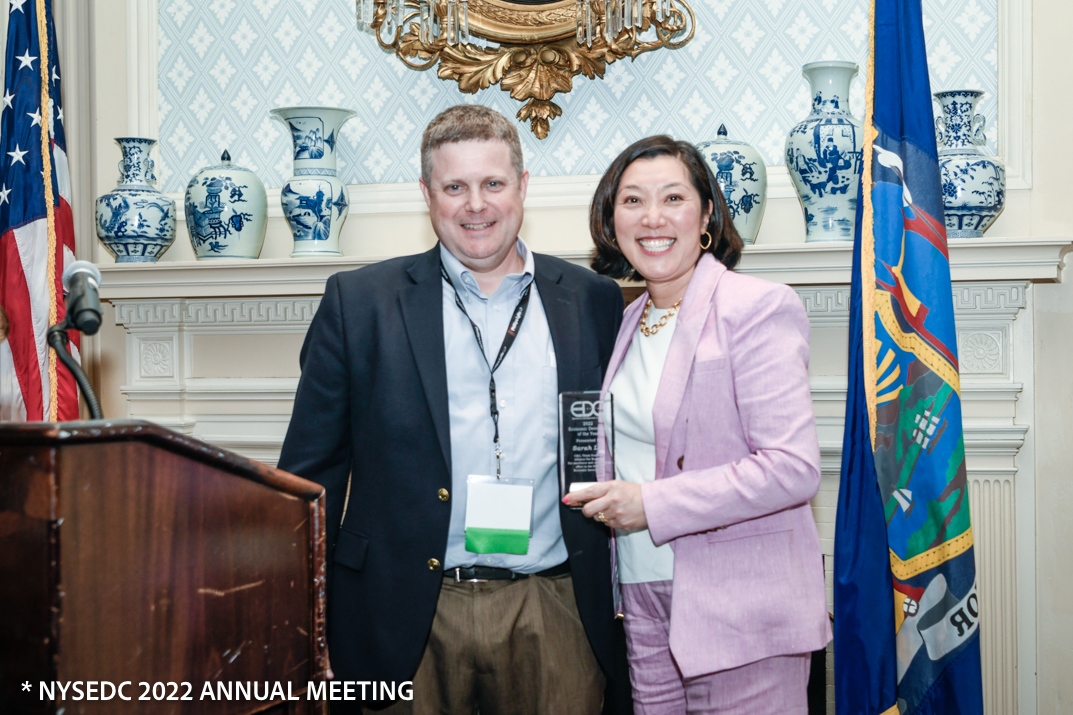 The NYSEDC Economic Development Awards program recognizes the state's best economic development programs and partnerships, marketing materials, influential leaders, and rising stars. These awards honor organizations and individuals for their efforts in creating positive change in urban, suburban, and rural communities. Nominations are sent to an awards committee for consideration. Winners are recognized at
Annual Meeting in Cooperstown
.
Developer of the Year
Developer of the Year is awarded each May to an economic developer who has made a substantial impact on his or her community and the economic development industry.
Nominations should take into account as many of the following criteria as possible:
Outstanding performance in public or private sector in developing and administering an economic development program.
Distinguished service to one's community by providing leadership in stimulating local economic development.
Demonstrated commitment to NYSEDC, its programs and its policies.
Demonstrated interest in assisting colleagues within the economic development profession.
Distinction in providing leadership in respect to a problem or situation of significant interest and impact in the practice of economic development.
Demonstrated commitment to economic education and training.
Past Recipients:
2022 Sarah Lee, Th!nk Dutchess
2021 All NYS Economic Development Organizations
2019 Jeff Janiszewski, Empire State Development
2018 James Johnson, Steuben County IDA
2017 Steve Griffin, Finger Lake EDC
2016 Steve DiMeo & Joseph Russo, Mohawk Valley Edge and National Grid
2015 Judy Seil, Monroe County
2014 Thomas Kucharski, Invest Buffalo Niagara
2013 Adore Flynn Kurtz, Clinton County
2012 Steven G. Hyde, Genesse County EDC
2011 Al Culliton, Erie County IDA
2010 William G. Mannix, Town of Islip IDA
2009 George Leveille, Harris Beach
2008 Donald Western, Onondaga County
ECONOMIC DEVELOPER OF THE YEAR NOMINATION FORM

Excellence in Marketing
The NYSEDC Excellence in Marketing Award recognizes an organization that has achieved measurable results telling its story about a project, redevelopment, rebranding, or community based initiative that serves the mission of NYSEDC, to promote the economic development of the state and its communities, encourage sound practices in the conduct of regional and statewide development programs, and develop education programs that enhance the professional development skills of NYSEDC members. This award is not limited to economic development organizations; marketing firms, workforce development organizations, higher education institutions, and non-profits are encouraged to apply. Nominations could a campaign, website, social media content, mobile marketing, targeted programming, digital media, video, multi-media, press event, or even a brochure. We want to hear how your marketing initiative is helping to better tell the story of economic development in New York State.
EXCELLENCE IN MARKETING NOMINATION FORM

Project of the Year
The NYSEDC Project of the Year is presented to an organization that has completed a project that serves the mission of the NYSEDC, to promote the economic development of the state and its communities.
Each nomination will be evaluated on the following criteria:
Project's impact on the community (i.e., overall tax base, cross community/multi-agency collaboration, rehabilitation, and adaptive reuse of existing buildings, especially historic properties)
Project's tangible and intangible results (i.e., did the project result in policies, programs, ideas that assisted in developing processes, products, and services into viable competitive businesses; were there resultant improvements to neighborhoods and/or business districts, especially in distressed areas)
Project replicability and transferability (i.e., can the project, program or policy be easily applied in other communities; is there a spin-off effect)
Project innovation and productivity (i.e., was the project cost effective; did it include land acquisition; did it involve a public-private partnership; did it address a globalization issue; does it align with regional economic development strategies, create efficiencies, or address environmental sustainability issues)
Project job retention/creation (i.e., how many jobs were created or retained; how do the salary levels compare to the median wage for similar occupations in the local community/region)
PROJECT OF THE YEAR NOMINATION FORM
Rising Star
The NYSEDC Rising Star Award will honor an individual age 40 and under who has made a significant contribution to the economic development profession in New York. Consideration will be given to quality of service and impact on New York's economy. This influence could be across the state or within an individual community. Nominees must be a member of NYSEDC.
Each of the following criteria must be addressed:
Specific project involvement resulting in economic growth, including increased capital investment and employment for New York
Involvement with NYSEDC
Innovation in performing his or her job
Community / volunteerism within the community at large
Specific achievements that have had a direct positive impact on New York's economy
RISING STAR NOMINATION FORM
Lifetime Achievement Award
The NYSEDC Board of Directors has the authority to nominate and select an individual to receive the Lifetime Achievement Award. This award is given to an individual who has demonstrated consistent, exemplary performance in the economic development profession, leading the execution of projects that have significant impact on revitalizing communities, and playing a major role in shaping and improving the practice of economic development in New York State. The recipient is given a lifelong membership in the NYSEDC.
Past Recipients:
2022
Fred Braun
, Brookhaven IDA and LDC
2022
Rich Dixon
, Chautauqua County IDA
2021
Mike Manikowski
, Ontario County Office of Economic Development
2020
Jim Griffin
, City of Hornell IDA and
Bill Mannix
, Town of Islip IDA
2019
Kevin McLaughlin
, The Agency, Broome County and
George Cregg
, Hodgson Russ
2018
Mike Stamm
, Tompkins County Area Development (TCAD)
LIFETIME ACHIEVEMENT NOMINATION FORM